Sucralose is the latest generation of sweetener in the world and the only one synthesized using sucrose as the main raw ingredient. Sucralose is the best non sugar, zero calorie sweetener currently available on the market, with a wide range of uses, and the biggest potential for future development. It is also a great tasting, safe, and reliable sweetener with great structural and heat stability as well as providing zero calories when consumed. It is considered the preeminent and most promising sweetener by many global companies for improving their product formulas and developing new products.

Product Name : Sucralose
Chemical Name : 1',6'–Dichloro-1', 6'–dideoxy–β–D-fructofuranosyl–4–chloro–4–deoxy–α–D–galactopyranoside
Synonyms : TGS; 4, 1', 6' – Trichlorogalactosucrose; Trichlorogalactosucrose
CAS No. : [56038-13-2]
Molecular Formula : C12H19O8Cl3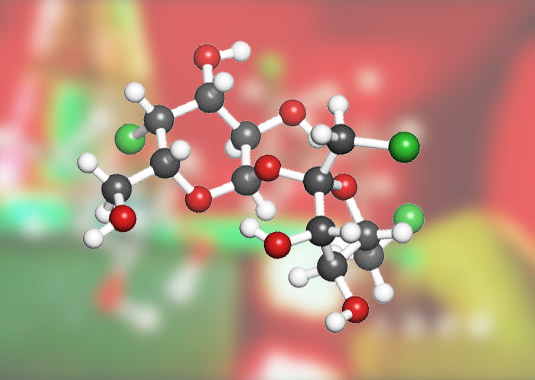 Functions & Properties

Approximately 600 times sweeter than sugar by weight.
The only high intensity sweetener that is made from sugar and tastes like sugar.
Great heat stability and is particularly stable in acidic/alkaline products.
Safe Accepted Daily Intake Value (ADI) of 5mg/kg of bodyweight.
Non-toxic, no calories or carbohydrates, and no effect on carbohydrate metabolism.
Superior Taste

Because it is made from sugar. Additionally, Sucralose has a well-rounded sweetness and very close to the taste of sugar, with almost none bitterness or astringency associated with other non-sugar sweeteners.
High Intensity

Sucralose is around 600 times sweeter than sugar, although its intensity does fluctuate depending on the type of food to which it is applied.
Excellent stability

Sucralose shows excellent stability in both powder and aqueous form. It is especially stable in aqueous solution at a pH of 7.0 or lower. Its high stability in foods with long shelf lives has been confirmed. It remains stable under high-temperature processing conditions such as retort sterilization. The excellent stability of sucralose makes it the sweetener of choice for a wide range of food products and manufacturing processes.
For example, the natural sugar-esque sweetness of sucralose can be used to make rich, tasty sausages, drawing out the meatiness and accentuating the herbal and spicy flavors. As sucralose is a high intensity sweetener, little else is needed to benefit from its advantages. Additionally, it is both resistant to heat in acidic to neutral conditions and stable through prolonged storage. Sucralose will not be broken down or deteriorate in quality from heat sterilization during the production process.
Application

Sucralose is currently used in over 3,000 products and approved